Drinking Water Made From the Sonoran Desert Air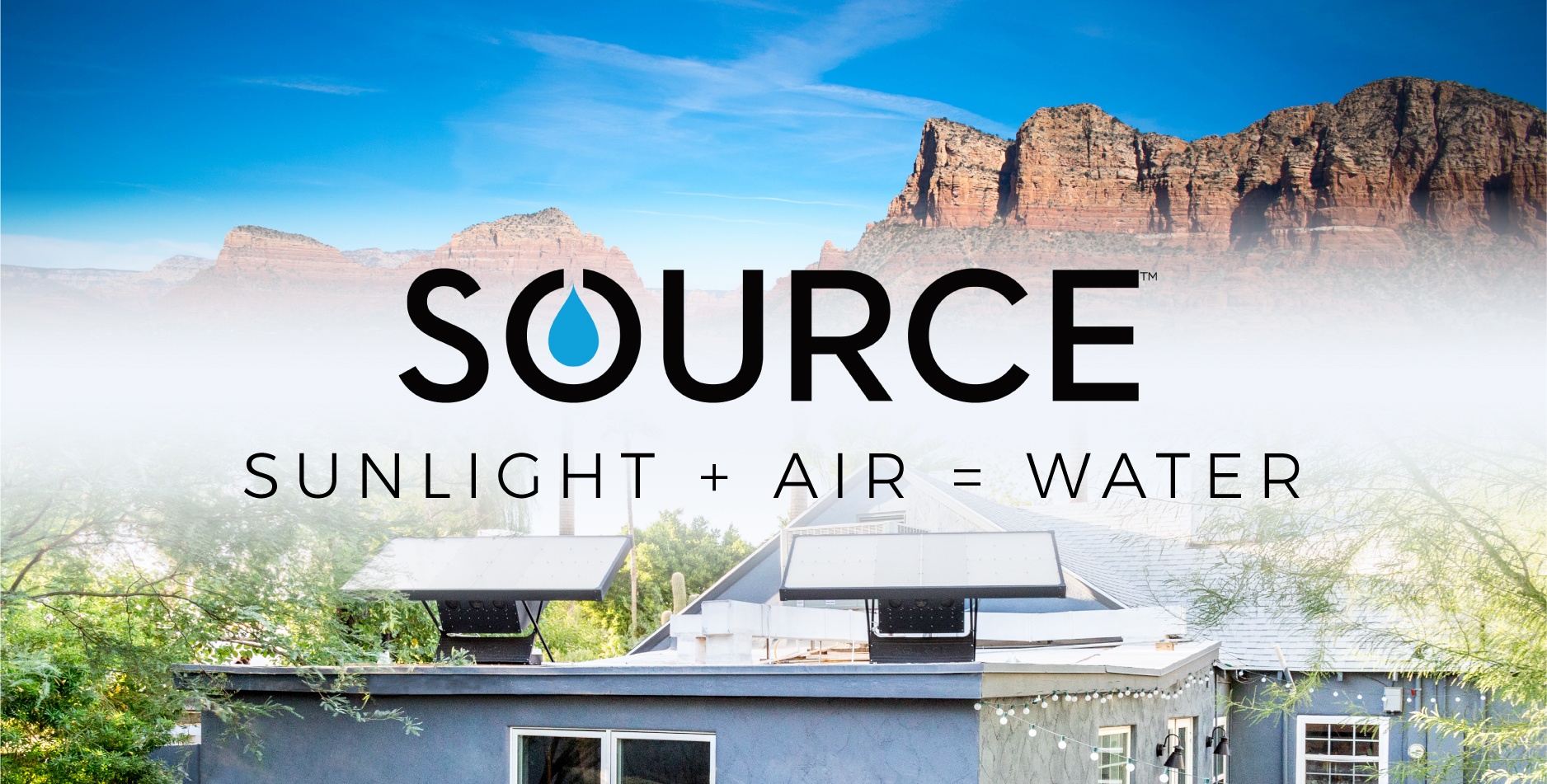 You deserve better drinking water.
Just like you take control of your electricity with solar, you can take control of your drinking water with SOURCE Hydropanels. Fill out the form to speak with us about a better drinking water choice for you and your family.
Sustainable
Each Hydropanel array offsets more than 100,000 plastic bottles and over 200,000 liters of filtered water waste in its lifetime.
Convenient
Entirely off-grid, SOURCE Hydropanels make high-quality drinking water on-site so you don't have to rely on bottled or tap water.
Perfected
Unlike filtered or bottled water, SOURCE water is completely free of unwanted chemicals, plastic particles, and harmful contaminants.
---
See SOURCE in action!
---
Keep scrolling to learn more about SOURCE!
3 things you should know:
SOURCE extracts pure, perfected drinking water from the air using specially engineered materials

SOURCE is monitored for quality, so you can have confidence knowing your water is always safe to drink

SOURCE powers the entire process with energy and heat from the sun - it's 100% independent of infrastructure
But how does it really work? How can you get water out of the air using nothing but the sun? Let us explain.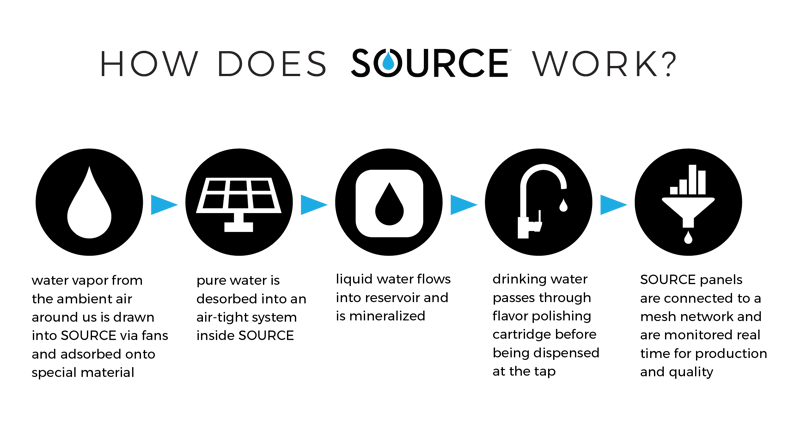 Financing now available. Speak with our team to learn more.
---
At this point you probably have several questions about SOURCE and how it will work for you and your family. Let us see if we can help answer some of those questions:
Q: How much water will SOURCE produce?
A: A standard SOURCE array (2 Hydropanels) will generate on average the equivalent of 12-20 standard bottles of water every day. This is enough to provide for the drinking water needs of a family of up to 4 people.

Q: How long is a SOURCE Hydropanel going to last?
A: Great question. SOURCE is built to last for 15+ years, and we tested it aggressively to make sure it meets that standard. At 15 years you won't even need to replace the whole system but will just need some mechanical upgrades. The long life of SOURCE is what makes it such a great investment, especially compared to bottled water.
Q: What about water storage?
A: Each SOURCE Hydropanel can store 60, 16.9 oz bottles' worth of water. A standard SOURCE array has two Hydropanels, giving you 120 bottles of water when full.
Q: Is SOURCE going to work if the air is really dry, for example in the desert?
A: Yes, it will. SOURCE produces water in many locations and a wide range of climates. Our array on the Zero Mass Water headquarters in Scottsdale, Arizona makes water year-long despite low relative humidity. The Phoenix-Metro area can get below 5% relative humidity in the summer, and SOURCE still produces water in these incredibly dry conditions thanks to our special materials that love to attract water.
Q: How much maintenance does SOURCE require?
A: Barely any at all. Just replace a small inexpensive air filter about once per year and the minerals every five. You'll only need to change the mineral cartridge twice in the 15 year life of SOURCE!
Q: Is SOURCE going to dry out the atmosphere by extracting water vapor from the air?
A: We get asked this frequently. The simple answer is no it will not. There's such a massive amount of water in the atmosphere that SOURCE cannot even begin to affect it. We estimate it would take over 70,000 Hydropanels per human being on the planet earth just to process the air in the atmosphere once and that would only decrease the relative humidity of that air by around 2.5%.
Q: Do I need to worry about pollution from the air getting into my water?
A: Nope! SOURCE by design only pulls pure water out of the air to which we add magnesium and calcium. We've had SOURCE tested under extremely harsh environmental conditions and every time the water came out pure and clean.
---
Hopefully we've managed to answer most of your questions, but we don't expect you to just take our word for it. Our customers love us and we want you to hear what they are saying about SOURCE.
"It's wonderful having the cleanest possible water always available at the push of a button, chilled from the fridge. Never having to worry about the cleanliness of the municipal supply, especially with kids, provides peace of mind. And, it's just so cool!" -Gene B., Oakland, CA
"I'm pretty sure that I'm the first person to drink a glass of sweet tea made from the air – tasted great!!" -Mike R., Fort Mill, SC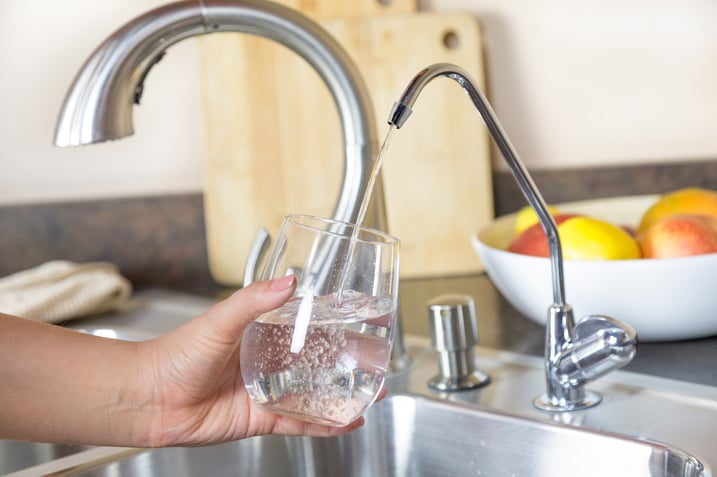 "The unit has had great reception by the community. The water has been sampled by everybody... it was very good,"
-Esterilla Y., Guayaquil, Ecudor
"SOURCE water tastes great and when my local municipality had some problems with the water supply, I knew my family was safe." -Bre P., New York, NY
---
SOURCE Hydropanels offer the only convenient, simple path to complete ownership of a renewable supply of water.
Never again worry if your water is contaminated. Never make another trip to the grocery store to buy bottled water. Rest peacefully knowing you have access to the drinking water you need to thrive.
Your two panel array of SOURCE Hydropanels™ installed by a local certified installation partner starts at just $4000 and we can add additional Hydropanels onto your array to meet any volume of drinking water needed.
To let SOURCE make and deliver perfected water to your tap with no work or effort on your part, get in contact with our team by filling out the form above. We look forward to hearing from you!